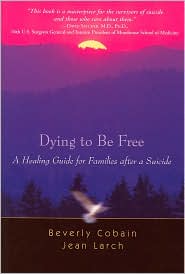 There are days when I think of Gino and all I can do is smile but then there are days when I think of him, miss him and end up sad. I don't cry that much anymore because in a way, I am so sick of crying.
Tonight I cried but I did it too myself. As part of my healing process, I wanted to read about suicide and why people think of it and end up doing it. I bought this book,
Dying to Be Free,
shortly after his one year death anniversary. I was into tears after just reading the Foreword and Preface. I have since read the first 25 pages and had to put it down. It's too emotional for me. I read one paragraph tonight on "The Tunnel". It's about how a kind of tunnel vision develops when suicide is viewed by the individual as the only solution to end their pain. This section was too hard for me to read. So again, I put the book down. It looks like I might not be ready to read about the subject. I want to be able to read this book from front to back, to fully comprehend what the author is writing about. So until my head and heart can shallow what is in this book, it will sit on my nightstand. It's just comforting to know that the book is there for me when I am ready.
P.S. - the author of this book is Kurt Cobain's aunt.