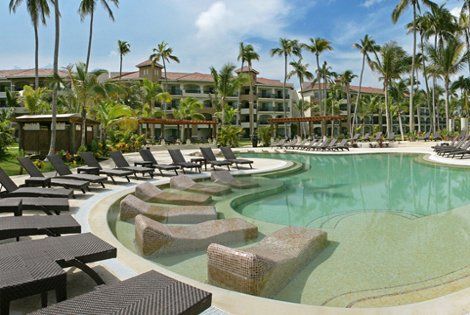 FINALLY
- after countless hours of researching resorts, trying to find a decent resort within our budget, we finally decide on one and booked yesterday. It's not the best resort. It's not the kind that we are use to but it was in our price range, has an awesome beach and decent room. The Dominican isn't known for their food (I am absolutely in love with Mexican food) but it will be nice to go back to our first love (it's the first destination that Mike and I went to alone). Mike and I were back and forth on where to go and also torn between two resorts in mind.
One resort in Mexico has a very modern looking resort, lots of good food, Coronitas in the room fridge, 8 pools including an infinity pool, only 15 minutes from the airport and it's adults-only but the bad thing is the beach is REALLY crappy. I am talking about greyish colour, hard sand, rocks in the water and you can't go swimming in it. We figured that we could just hang out by the pool. But who are we kidding, we are so not pool people.
The other resort, the one we booked, is in Punta Cana. It sort of looks like Ocean Blue, which we went to back in 2005 and we liked the decor. The food is okay, many pools, 20 minutes from the airport and of course, a beautiful beach with white powdery sand and turquoise water. The drawback...KIDS, KIDS and more KIDS. It's a family resort. We haven't been to a family resort since 2007 and since then, our last three vacations have been to an adults-only resorts.
So, we are leaving on December 18th for
NH Real Arena
in Punta Cana. Mike and I are so excited to be going back to Punta Cana. It's where we got engaged in 2004 and married in 2006. Could this place be a lucky charm for us???
P.S. - we found a new travel agent who is super nice. She gave us a great deal. Don't get me wrong, we love our travel agent from Bel Air Travel but it's always good to have someone else to go to. If you need a travel agent, please let me know and I will pass along her info. She's around my age and is a lazy beach bum like me so she knows the type of resorts we would like.