Yesterday, Mike, Maureen and I were invited to Marie and Jason's house for linner (lunch + dinner). We have tried to set up this date since January but we could never coordinate our schedules. Marie treated us to a delicious linner, check it out:
Pea sprouts and I don't know what the vegetable at the top was (I forgot to ask)
Slow cooked pork belly and scallops
Korean rice with Japanese seasoning (delicious)
Chocolate macarons with dulce de leche filling
I am just coming off my detox diet so eating all this food was too much for me. It was delicious and I wish I could have eaten more but my stomach was killing me. It was a shock to my system so I had to pass on the mint chocolate ice cream. I totally give props to Marie for making macarons. They can't be easy to make.
* * * *
After sitting around and talking, we caught the 6:15 pm show of Sex and the City 2. Thank goodness we decided to go early because our theatre was not packed, and we avoided the madness of line ups for the later shows.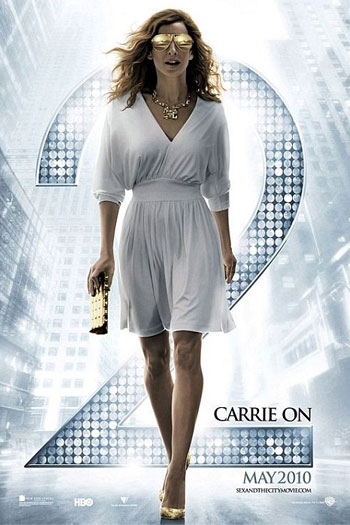 I was quite anxious to watch this movie. I'm a big, big fan of the television show and the first movie. As much as I loved that Carrie and Big ended up together on the series finale, I have a huge soft spot for Aidan. He makes my heart melt but I do understand the long history and love that Carrie and Big share. So you can imagine my excitement to find out that Aidan would be making an appearance in the movie.
The movie was long but didn't feel like it. The story flowed nicely, filled with fashion, jokes and beautiful scenery. I enjoyed the movie but wasn't thrilled with the ending. To me, it wasn't anything exciting. While the ending of the first movie tied everything together and gave closure, this second movie, the ending was just...well, okay. I don't want to get into the details of the movie but here's what I liked:
Hot guy - you know Anthony's little brother, Nicky
The fashion - especially Carrie's Halston white and blue dresses
Aidan - there's just something about him
Carrie and Big's new apartment - it's beautifully decorated
Steve not looking so geeky. Good call on having him wear glasses
The wedding scene - what an interesting wedding
That private jet - I wish I could always travel like that
Overall, the movie was good. Of course, I will buy it when it comes out in Blu-ray and I might just invest the money and buy the boxed set of all seasons (I think I saw it cheap at Wal-Mart).
What did you think of SATC 2?
What did you like and dislike about the movie?