I have been patiently
waiting for this movie to be released
. I wasn't in town on opening weekend but if I was, I would have wanted to be first in line to get tickets. I like action movies but normally, action movies involve a not-so-good-looking muscle head doing a bunch of stunts and shooting guns.
Takers
is different - there's lots of action but if not ONE but MANY hot guys. Just imagine, so many good looking guys on one screen...you just don't know where to look - Paul Walker, Jay Hernandez, Hayden Christensen, T.I.,
etc
...
The movie opens with a wicked opening sequence and also closes with one. There's more story lines than just a planned heist. There's many shocking turn of events and heartbreaking moments. For Maureen and I, there were also a lot of funny parts. I think we were the only ones laughing in the theatre. I have to say that this movie rocked, don't know if it's because we went in with no expectations and were planning to just gawk at all the actors or if it really just was that good. It's a movie that a couple can go to watch because the boy will get his action fix and the girl will get her eye candy fix.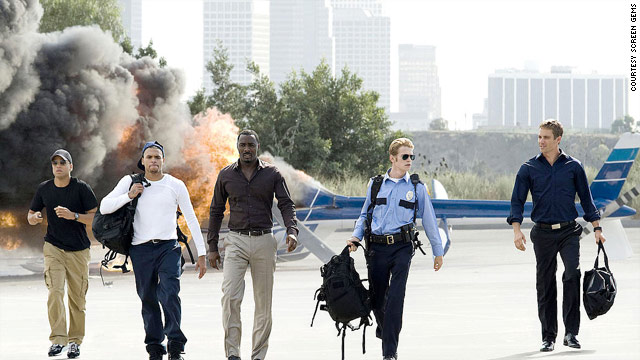 Includes a sexy scene when the guys walk away from an explosion...
...and a rooftop scene with guys in sexy suits
...also don't forget, nice cars and motorcycles.