It's Sunday night and I am getting ready to watch the VMA's. It's the pre-show right now so I feel like I should do up a blog post before the actual awards start.
New addition to the Solon Massive.
Thursday night we anxiously waited in Aurora for the arrival of my sister-in-law and her extreme hubby's little girl. She didn't arrive until Sept 10 at 1:25 am. We finally got to meet her on Saturday. She is tiny and so far, she seems very quiet to me, just sleeping all through the madness of the Solon Massive. She has to get use to the noise because Mike's family can get very loud. Meet Baby Hannah Grace. Her parents are beaming huge smiles and are totally in love with her.
Hannah Grace S-C-O
Silly bandz.
These are all the rage according to my other sister-in-law, who is a high school teacher. Teens are wearing these bandz (although my sister-in-law doesn't know if there is some meaning as to why and how many bandz you wear). I wore four little bandz that my niece gave me but at the end of the day, I had to give back three of them because she was getting in trouble from her mom. The next day, while reading the September issue of Glamour, I read that
Mary-Kate Olsen has been seen wearing Silly Bandz
. Wow, my four year old niece is a little fashionista and ahead of her times.
Belle being silly wearing her silly bandz on her nose
Killers.
After a full day playing with our niece and nephew, hubby and I decided to spend the evening in bed and watch Killers. The movie started off very slow and I was actually annoyed with it. The only thing that kept me going was that Aston Kutcher was kinda hot in the movie. I am glad that I waited to watch it on DVD rather than pay to watch it in the theatre. There was a lot of shooting, not much funny parts and a very predictable ending.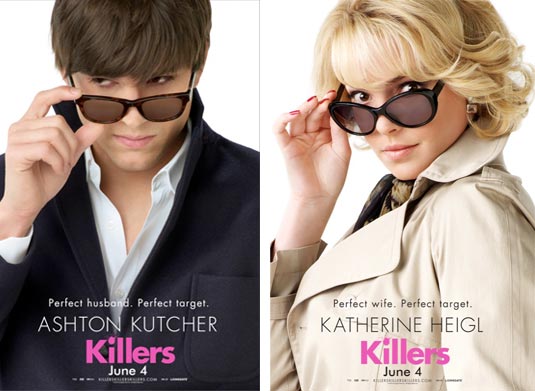 City Story.
I am addicted to this
game
on my iPhone. City Story is your typical game where you build a city. You can add residences, businesses and even produce different items in a factory to make some money. You get coins and points for cleaning other cities. So, yes, you need wifi or 3G to play. If you are also playing this game, add me as a neighbor - Buddyville.
Buddyville
Good Reads.
There is nothing better than waking up on Sunday morning and receiving an
email
from Good Reads. Out of 987 entries, I won a copy of
Lauren Conrad's Style Book
. I am a huge fan of LC and I was going to pre-order this book sometime this week but looks like I won't have to, well, I will still have to order Sugar & Spice, the third installment to Lauren's books. I just love winning stuff!
I didn't end up going to the theatre to watch a movie with Maureen. We are taking a rain check for this coming weekend. Thanks to everyone who voted. It was fun to see the results. I may just have to re-post the poll again in case there are some good movies that come out this weekend. (I know that the votes went to Salt but we were going to go watch Going the Distance)
Eminem is about to open up the VMA's. I need to sit my butt on the couch and enjoy the performances. I hope you all had a good weekend. I'll leave you with some questions:
What iPhone game are you currently playing?
Did you watch a movie over the weekend?
Will you be watching the VMA's tonight?