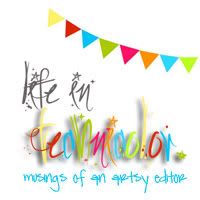 If I remember correctly, I met Becca through Fill in the Blank Friday. She's got this fantastic, colorful blog,
life in technicolor
and she is the originator of the infamous,
My 30 Day Challenge
(two of my real life friends, one blog friend and my husband have completed it or are still doing it). Follow Becca as she prepares for the birth of her baby girl, comes up with cool challenges and giveaways and don't forget to check out her crazy Pez collection.
1) When and why did you start blogging?
Back in the day, which of course was a Wednesday, by the way ... (any Dane Cook fans? eh?) I used to have a xanga. I wrote on that thing all through high school and loved the idea of having an online journal. I quit my xanga when I left for college, but toward the end of my senior year, I noticed a lot of people were getting into blogging. I thought I'd give it a try and was completely hooked right off the bat. I started my blog in December 2009. I blogged here and there, and in March decided to come up with a 30 days of blogging challenge that would keep me focused on posting every day so that I got into the habit. It was a lot of fun and really challenged me, so I created and started the my 30 days challenge in August. I have a few other series that I blog about often, and then I throw in some personal blogging too. Oh, and I love thinking up challenges or posts or giveaways that include my readers!
I enjoy writing and photography, so blogging is a great place for me to get my thoughts out, have everything together in one convenient place, and to connect with others through these two things. I am big into layouts and designing ... I'm such a type A organization nerd ... I enjoy working with html code and arranging all of my elements on each post to create a setup that I like. And I'm a huge fan of typography and color, so my blog reflects that.
2) Where do you live?
I live in Nixa, Missouri, USA. (You might recognize it as Nixa is the birthplace of fictional character David Webb (who becomes Jason Bourne) in the Bourne movies.) Nixa is a small little suburb 30 minutes south of downtown Springfield and 30 minutes north of Branson. I like Nixa because it's quiet, friendly, and away from all the tourists, large businesses, schools, hospitals, and traffic. We have a shopping strip or two and a Walmart, so it's pretty perfect.
I was born and raised in Pittsburgh, Pennsylvania, USA, so it's quite a contrast from the huge city I was used to. However, we moved to Louisville, Ohio, USA when I was in middle school, and Nixa is eerily similar to that small, friendly town :)
3) What do you for a living and what do you do in your spare time when you are not blogging?
I am the assistant editor of AG News and I work at the General Council of the Assemblies of God USA Headquarters. So I write allllllll day long, including my lunch breaks, when I'm usually blogging. :)
When I'm not at work, I enjoy drawing, journaling, sewing, crafting, baking, ice skating (although that's put on hold right now until our little girl is born in January) and collecting pez dispensers. My husband Caleb and I both enjoy painting, thrifting, mini-golf, and "camping" in our living room — which is putting blankets and pillows on the living room floor, ordering a pizza, and breaking out chips and cheese and pop for a movie night — so we do those things together a lot.
4) What is your favorite website to visit daily?
Besides Facebook, Twitter, Gmail, and Blogger? Lol. Is there anything else? Actually, I've been on nfl.com a lot recently, to check scores, schedules, stats, and to update my fantasy football league. I love football season!
5) What is your favorite vacation spot and why?
My family never really went on annual vacations, but my mom took us to Hershey Park one year and day took us to Disney World one year. I also went to Disney World in high school for marching band. I've been to Niagara Falls with one of my best friends, Amy. And I have been to Myrtle Beach three summers in a row with the Flanigans, a family I babysat for.
These days, Caleb and I are big fans of Branson. We go to the lake and hang out on the beach all day, or spend the day at Silver Dollar City. We went to Branson on our honeymoon and enjoyed all the shows and activities the city has to offer. We recently took a mini-vacation there and rented a hotel, saw some shows, went to SDC, went thrifting, mini-golfing, and enjoyed some time away from home. People travel froml all over to come to Branson, and it's pretty funny.
6) Name your top three favorite songs.
This is really hard to only pick three, but I would say 1) Eleanor Rigby by The Beatles, 2) Yellow by Coldplay, 3) Just Another Love Song by Joe Purdy (one of our wedding songs.)
7) Who is your favourite celebrity to stalk?
I love stalking Kate Walsh's twitter (@K8Walsh). She is really hilarious and spends a lot of time on there answering questions. She has the craziest insight. She is pretty down to earth but really quirky and adventurous and I love that about her. She's always been my favorite character on Grey's Anatomy and Private Practice is just genius.
8) What's your favorite drink?
I absolutely love Dr. Pepper and have enjoyed it as long as I can remember. Although we are on limited doses now that I am pregnant. :)
9) What is your latest obsession?
My latest obsession is sewing. I just got my first sewing machine as an early Christmas/birthday/you just had a baby present from my mom. Last week I started making a quilt and soon I want to start fashioning newborn clothes. Earlier this year I started making hair accessories from felt, fabric, and vintage buttons, and that's pretty fun too. I have a table in the kitchen covered in stacks of felt and a tray of buttons specifically for my projects. And painting! I love painting, and so does my husband. We have 5 canvases we painted in the baby's room, one I painted upstairs, and two in the kitchen. And I want more. Haha.
10) What would your last meal be?
I love, love me some pasta, salad and breadsticks. But my absolute favorite meal of all time is Thanksgiving dinner ... turkey, mashed potatoes and gravy, sweet potatoes, corn, dinner rolls, pumpkin pie ... yessssss.