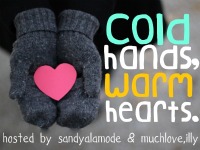 You may remember that last month I joined Cold Hands, Warm Hearts. The lovely
Sandy
and
Ilene
joined forces to come up with this wonderful swap. My swap partner, Michelle from michelle-esque received my package early last week and blogged about it
here
.
I received her package to me last Friday. Sorry for the delay in posting this up. Michelle sent me this nicely wrapped package. I read the card and she included a lucky charm. I love that she gave me this charm because I definitely need all the luck in 2011. She told me that it brought her tons of luck in 2010 and she wanted to pass it along to me. I carefully opened the two package and found two pairs of gloves - b&w fingerless mitts and cream gloves. But within each of them, I found little cute, erasers, stamps and inks. Also, cute Christmas glitter stickers.
I love everything she gave me. It's so thoughtful and creative. Thank you very much, Michelle. You are a great swap partner, so creative and it's due to the fact that you are a fashion major. I hope you liked everything I sent to you. All I know is that headband is super cute and you rock it well!
For those of you who didn't get a chance to join, it's too bad because this swap was a lot of fun!