I just returned last night from my trip to San Jose to visit my mom. I thought I might blog while I was there but I only managed to get out one post. I was having too much fun to write, although my mom still managed to write daily posts while I was there. So for today, I am doubling up doing
last Thursday's topic on Current Obsessions
and this week's Fun Summer Reads.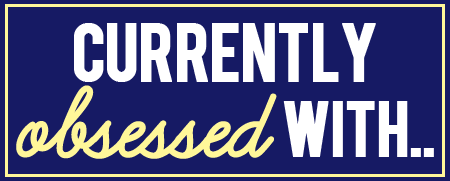 There are lots of things I am currently obsessed with so my list could go on forever and ever, so I will narrow it down to four things I can't get enough of RIGHT NOW!
Oia Jules:
I've had my eye on Elizabeth's Etsy shop,
Oia Jules
for over a year now and when a 20% promo code came out on twitter, I knew that my chance had come to buy and see if I liked her jewelry. And guess what, I am in love. I purchased the
Chunky Gold Chain Link Bracelet with Smoky Quartz
and I couldn't be more happy with what I picked. I foresee a long lasting relationship with me and Oia Jules. I plan on buying a necklace next.
Zayn Malik/One Direction:
Don't judge but I bought the One Direction Up All Night Live Tour DVD. Yes, I am that girl. Once a pop princess, always a pop princess, no matter what age. Zayn is such a cutie and I do realize that he is too young for me, but wasn't everyone obsessed with Taylor Lautner when Twilight first came out? Anyway,
Stole my Heart
from 1D is on heavy rotation on my iPod.
Suits:
I'm so glad that Suits is on during the summer because it's the one TV show I can look forward to watching. What I really like about it is the banter between Harvey Spector and Mike Ross, you will have to watch it to understand. I also like the fact that it was filmed in Toronto. It's fun to point out the restaurants and areas they film at. #wwhd (what would Harvey do)
eos Products:
I first fell in love with those spherical lip balms, but I have since discovered the flat hand lotion and next up, their shave cream. Although eos products are available in Canada, it's super expensive compared to the States. Thankfully my mom replenishes my stock every so often.

This week's topics is fun summer reads. I have read a couple of books over the summer and Fifty Shades is probably the best book to read pool/beach side because it doesn't require your full attention, it's just for mindless fun. And mindless fun is the perfect summer read.
For past summers I have read anything from Sophia Kinsella, Meg Cabot or any of the Gossip Girl books. I also think anything light and funny like Chelsea Handler books would be a fun summer read. You should never be reading heavy or sad (aka Nicholas Sparks books) during the summer, save those kinds of books for the winter.
What books have you read over the summer? And what are you currently obsessed with?